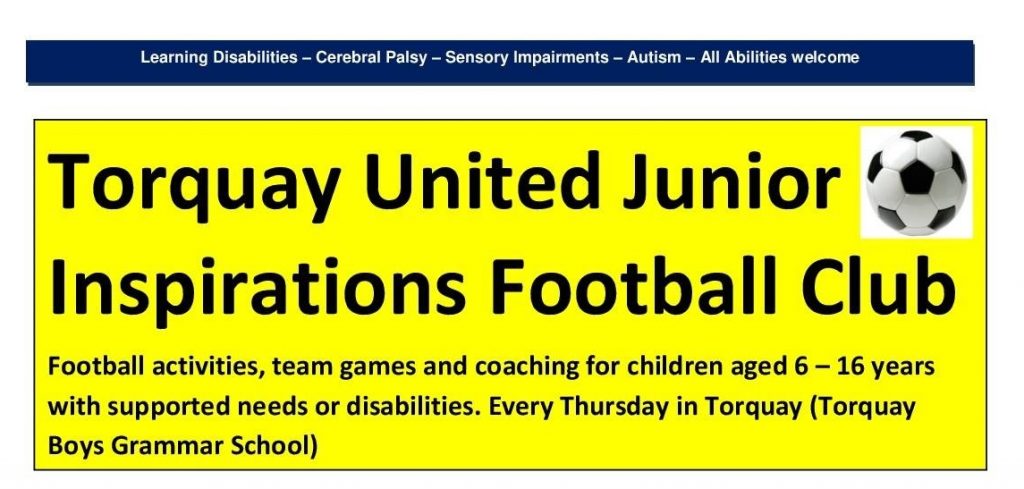 A guide to clubs and activities that SEND children and young people in Torbay and the surrounding area can enjoy. Please let us know of any others so we can add them to the listing.
For children
Groups and activities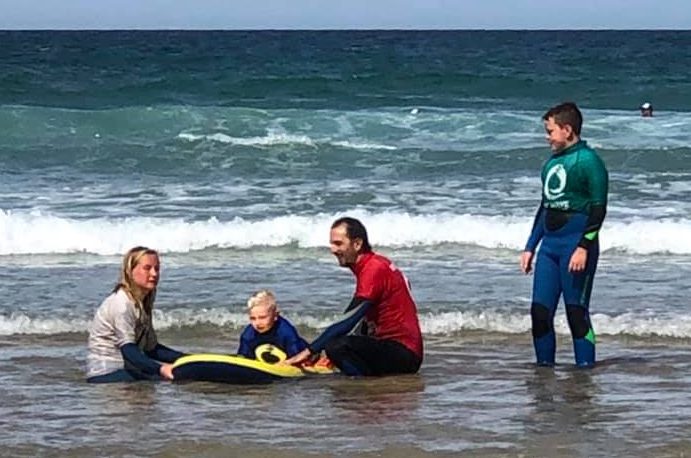 Surfing
Climbing
Outdoor adventures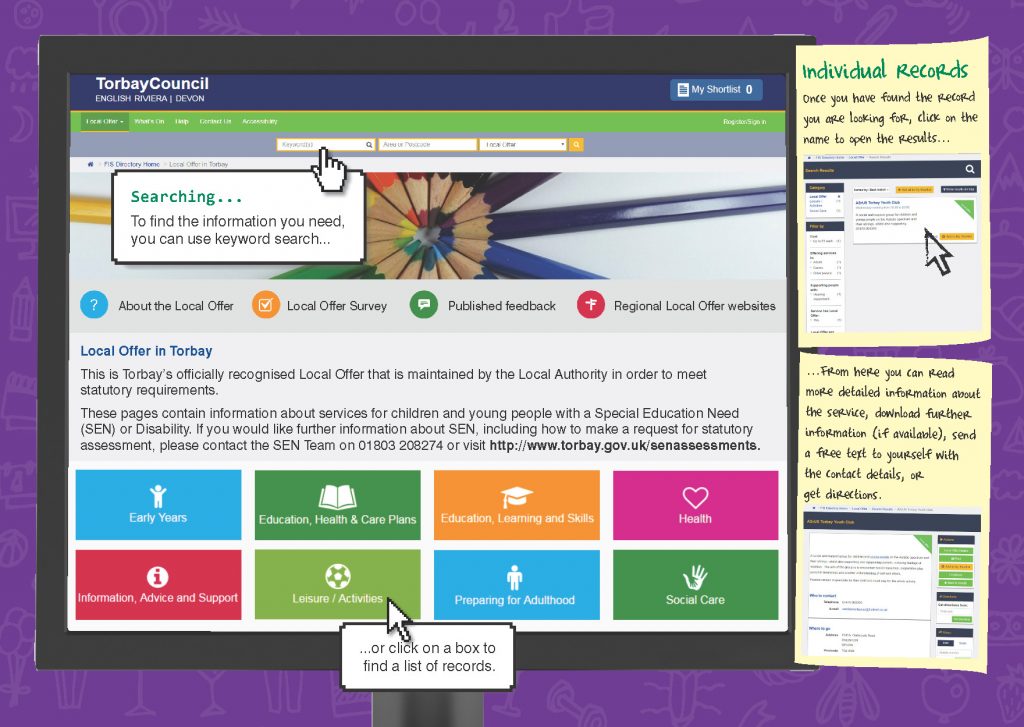 For information about all services available in Torbay for SEND children and young people, see Torbay Council's Local Offer at http://www.torbay.gov.uk/schools-and-learning/send/local-offer/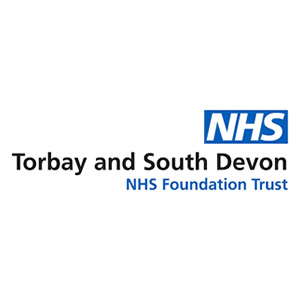 From Torbay and South Devon NHS Trust's website – https://www.torbayandsouthdevon.nhs.uk/uploads/dis-information-sheet-sport-and-outdoor-activities-p34.pdf  is:
Archery
Brixham Archers' home is Churston Field, adjacent to Churston Ferrers Grammar School. It is open to people with disabilities. Contact Mrs Judith Booker, secretary, (01803) 853687, log on to www.brixhamarchers.co.uk or email info@brixhamarchers.co.uk
Paignton Archers is a friendly club affiliated to Archery GB (formerly the Grand National Archery Society). The club's indoor venue is the YMCA, Paignton and its outdoor venue is Stoke Gabriel Cricket Club. Beginners' courses for all ages (from 10 upwards), genders and abilities are available. All equipment is provided by the club. Log on to www.paigntonarcheryclub.co.uk or email paigntonarchers@gmail.com
Torquay Company of Archers is affiliated to Archery GB and is open to people with disabilities and has disabled members and members who belong to British Blind Sports Archery. Its shooting site is Torquay Academy, just off Cricketfield Road, Torquay. Log on to www.torquayarchers.co.uk or email info@torquayarchers.co.uk
Athletics and Gymnastics
South Devon School of Gymnastics Athletes of all abilities are welcome. Offers classes for recreational and competitive gymnasts with a wide variety of special needs. Its special needs squad competes at national level at Special Olympic competitions. Alders Way, Yalberton Industrial Estate, Paignton, TQ4 7QR. Contact Nicci Tucker, head coach, (01803) 523774 or email nicci@southdevongym.co.uk. Log on to www.southdevongym.co.uk
Basketball
Exeter Otters Wheelchair Basketball Club welcomes new players of 14 years upwards, whatever their experience or disability. Wheelchair basketball can be played by people with or without physical disabilities. Training is at Middlemoor Police HQ, Exeter, and home matches are played at St James School, Exeter. Contact Paul Bounden, club secretary and captain, on 07791 715169 or email paul.bounden@yahoo.co.uk
Torbay Tigers Basketball Club gives able and disabled young people (under 18) the chance to play basketball and also has a senior (over 18s) team. It meets at various venues, including Paignton Community and Sports Academy and Churston Ferrers Grammar School. There is currently no wheelchair basketball. Contact Rick Wooldridge, club secretary, on (01803) 844757, log on to  www.torbaytigers.co.uk  or email info@torbaytigers.co.uk or rick.wooldridge@btinternet.com
Bowls and Ten Pin Bowling
Devon County Short Mat Bowls Association has more than 100 affiliated Cubs throughout Devon, many of which offer indoor bowling for people with disabilities. Log on to www.devonshortmat.co.uk
Cycling
Torbay Velopark at Penwill Way, Paignton, is able to provide specially adapted bikes for use by disabled people. Bikes include specially made trikes, a tandem and junior and senior recumbent bikes. Call 01803 659711, log on to www.torbay.gov.uk/leisure-sports-and-community/sports/cycling/velopark/ or email torbay.velopark@lexleisure.org.uk
Football
Devon FA Disability Football offers a range of football opportunities for disabled people in Devon, including the disability football league (Devon Ability Counts), wheelchair football, deaffriendly football clubs, Torbay and Plymouth mental health football tournaments and an Exeter Downs Syndrome football progamme. Contact Ashley Harris, disability football development officer, on 01626) 323560 or 07912 089838, email ashley.harris@devonfa.com or log on to www.devonfa.com/players/disability
Torquay United – facilities for people with disabilities (watching football) Torquay United Supporters Trust (TUST) has a range of facilities for fans with disabilities, including some unused Soccer Sight headsets for blind and partially sighted people to listen to match commentaries. Email Martin Wildman, disabled liaison officer at martin_wildman@btinternet.com
Torquay United Inspirations Football coaching sessions for men and women, over 16, with any disability (including learning and physical disabilities). Includes shooting, passing, small sided games and penalty shoot outs. Warm clothing, suitable footwear for outdoors and indoors (depending on weather), and drinks to be provided by players. The sessions are aimed at anybody wanting to have a go and are fun as well. The teams are under the Torquay United Community Sports Trust and will be playing in the Devon Ability Counts League under the guidance of the Devon Football Association. Times: Saturdays, 9 to 10am (adults), 10am to 11am (children). Paignton and Community Sports Academy, Waterleat Road, Paignton. Call 01803 322551.
Wheelchair football and games for wheelchair users of any age. Open to manual chair and power chair users. Those who need a push are also welcome as long as pushers accompany them. Anyone interested can turn up but it's advisable to contact Ashley Harris before attending. Times: Alternate Saturdays, 11am to midday. Cost: £3 per session. Paignton Community and Sports Academy, Waterleat Road, Paignton. Call Ashley Harris on 07912 089838 or 016266 323560
South Devon Sports Association for the Disabled organises sporting events and encourages children (10 years upwards) and adults with any disability to take part and compete. Covers most sports that are achievable by a disabled person (i.e. 80% of sports), including wheelchair racing/slalom, swimming, table tennis, track and field events and other sporting/'have a go' events for the more severely disabled. Times: First, third (and fifth, if applicable) Saturday of the month, 2.30pm to 5pm. Contact Clive Littlehales, chairman, on 01626 212267.
Racket Sports
Devon Disability Tennis Gives people with a disability the opportunity to experience the game of tennis, including wheelchair tennis, visually impaired tennis and tennis for people with learning disabilities. South Devon Tennis Centre, Ermington Road, Ivybridge PL21 9ES Call 07966 441623
Rugby
Local wheelchair rugby clubs Exeter Hawks and West Country Hawks provide opportunities to play and compete in wheelchair rugby. Exeter Hawks + St. Luke's Science and Sports College, Sportshall, Hart's Lane, Exeter EX1 3RD. Call 07875 299454.
Sailing and Water Sports
Disabled Sailing Association offers affordable sailing opportunities, from Torquay and the Dart, to disabled and disadvantaged people, their carers and families. The Association has a yacht which is specially adapted for people with disabilities, including wheelchair access. If desired, the Association may be able to arrange training for disabled users so that they can achieve recognised sailing qualifications. Contact David Musgrove, chairman, on 01803 408886 or log on to www.disabledsailingassociation.org.uk
Grenville House Outdoor Education Centre gives people the opportunity to take part in canoeing, power boating and yachting, which are available for people with disabilities. Facilities are not particularly accessible to people who use wheelchairs. Berry Head Road, Brixham TQ5 9AF. Call 01803 852797or email info@grenvillehouse.com
Sailability (Torbay and Dart) offers opportunities to people with disabilities to take up sailing, both recreationally and competitively. Torbay Sailability at Torquay Marina, Vaughan Road, Torquay TQ2 5EQ. Call Marshall Ritchie, general manager, on 01803 297800. Dart Sailability at Noss Marina, near Kingswear. Contact Nikki Stewart, co-ordinator, on 01803 856676 or Janet on 07954 160092.
Torquay Kitesurfing and Kitebuggying School gives disabled people the opportunity to partake in kitesurfing and kitebuggying. The activities are inclusive for everyone, including essential wheelchair users, blind people and people with limb amputations. Call 01803 212411 or log on to www.kitesurfing-torquaywindsurfing.co.uk
Trinity Sailing Foundation, Brixham sail training for disadvantaged young people. Open to trainees aged 14 to 24 years, but also available to older or younger groups by arrangement. Call 01803 883355.
Target Shooting
Paignton (Torbay) Rifle and Pistol Club is affiliated to the National Rifle Association. Target shooting is for males and females, juniors and adults. Both able and disabled people can compete in the same competition on equal terms. Call 01803 445872.
Wheelchair Dancing
Beacons Wheelchair Dancers (affiliated with Para Dance UK) is a charity that offers people who use wheelchairs the opportunity to learn to wheelchair dance as a leisure and sports activity. Sessions are held at Ground Floor, Abbey Hall, Rock Road, Torquay, TQ2 5SP Times: Weekly on Tuesdays, 6.45pm to 9.30pm. Cost: £2. Call Sue Cummings, coordinator, on 01803 554799.
For parent carers
Support groups include:
Tissues and Issues Torquay meets fortnightly on a Tuesday at Torquay Rugby Club. https://www.facebook.com/groups/1998466853749511/about/
Positively Autistic hold regular evening meet-ups for parent carers of children and young people with any condition, not just autism https://www.facebook.com/PositivelyAutistic/
Positively Autistic also runs a Facebook group specifically for men: https://www.facebook.com/groups/1893808457523322/?source_id=147074065444729
Tea and Biscuits SW holds regular meet-ups and events such as running groups, meditation and lunch groups. https://www.facebook.com/groups/733127670115441/
South Devon Autism Forum Information Group details local events and organisations as well as recent, relevant information, wherever you are on your autism journey. Speaker events are also held https://www.facebook.com/groups/1992774781043112/
South Devon Dyslexia Association is a Saturday morning dyslexia workshop that helps children and young people aged seven to 16 who have literacy difficulties and are suffering from low self-esteem due to not keeping up with their peers. See Torbay Council's Local Offer for details